Business flow - ordering -
Fukuei will show how it can link customers and factories
<1> Inquiries

Dedicated staff from the start to finish
In our company a dedicated sales representative (or a team) will handle a case from the initial meeting with the customer to the final delivery of the product. Please feel free to inquire how this works.
<2> Listening to customers' objectives and ideas
How far can we help our customers?
We support our customers from start to finish; from selecting and supplying the material, manufacturing and shipping. We think of our customer first; we select the most suitable material at the quotation stage helping the customer to save money. We participate in the customer's project from the very beginning, advising about the materials, cost and process to realize the final product in the best possible way.
<3> Further discussion of the project based on the sample material
Quick sample making
There are several hundred types of PVC film and each material has its own characteristics such as hardness, flexibility, thickness, heat resistance and corrosion resistance, that affect the finished product in subtle ways. That is why we create a sample quickly so that the customer can actually see and feel what it will be like.
For example, our sales team was once commissioned to create a sample of sales promotion item in the shape of a sail by a major beer brewery. They were very happy with our product and the sail shaped items were a big success in their summer campaign.
<4> Deciding the material, size, printing contents, volume, material manufacture and processing site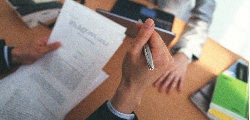 Sure support by experienced staff
Our main business is wholesale of many materials, including plastic films. As well as a trading function, we also have manufacturing capability with several dozens of external affiliate companies which specialize in cutting, printing, processing, assembly and examination. We also have overseas affiliates factories in China.
The production control department looks after the whole production stages including 'best matching', production and quality controls. The person leading the team is an expert with 30 years experience in our company, who knows exactly how to combine external affiliate companies in order to achieve the quality a customer wants. 'I am the creative director of the plastic world', he says. The department also functions as a processing and manufacturing entity. It boasts its role in domestic and overseas production and processing trade.
<5> Quotation
Accurate quotation with 'Customer First' approach
Small plastic items such as fancy goods, summer bags and soft packagings are usually produced in a unit of several thousands. The cost varies depending on the number of materials and processes used. We always provide an accurate quotation with a 'customer first' approach.
<6> Prototype creation (extra cost may be incurred)
Prototyping to ensure the customer's requirement
We create a prototype so that the customer can examine its actual look and feel.
<7> Start arranging manufacturing as soon as PO is received
Arrange manufacturing quickly
Your order will be handed from our sales representative to the business unit that gives instructions to our external affiliates including cutting, printing and sewing.
<8> Manufacturing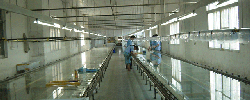 Manufacturing starts at our advanced facility with experienced staff
After confirming the final specification, manufacturing begins. All our affiliate companies have advanced facilities and highly qualified staff. Manufacturing can be done in our affiliated overseas factories. All of them run rigorous production and quality controls.
<9> Examination and delivery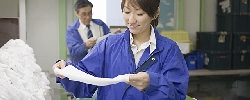 Rigorous examination ensured
Manufactured products will be examined by our sales representative once again before delivery, which is always on time. For the products manufactured oveseas, our own staff will always perform the examinations before export and after import.
Link to Inquiries

Ask us for an estimate or for other information by phone or through internet.Please do not hesitate to make inquiries at our Company, whose special staff would be happy to wait on you.

Inquiries by phone

Please feel free to inquires at our Company over the telephone
For details about the services provided by Fukuei Sangyo, please look at the page about Our services on our website.




TEL: +81-3-3861-8181

Inquiry through internet

We respond to inquiries made through Internet also: Make inquiries by email, and one of our sales representatives will be pleased to answer by email or by phone.We also accept inquiries through internet.